October 12, 2009
Good Neighbours
The Joneses? Yeah, you weren't around for that particular episode, were you? Oh, you won't find many people who want to talk about it round here. Not enough time gone by yet. Mind you, I could tell you the tale if I didn't have this nasty rattle …
What's that? Some lubrication? Don't mind if I do, thank you very much!
Now, what was I saying?
Ah, the Joneses. Yes. Yes.
They must have got here in the winter of '55 or '56, I don't rightly recall, or where from. We were used to seeing their kind in films and suchlike, but it was different seeing them in the flesh, if you know what I mean? Didn't bother me one bit - I'm an old-timer and a well-travelled man, I've been to London - but some young'uns round here ain't budged more than a few miles from home in their life, and it was them that goggled and stared the most. And of course, some others still have funny ideas about people like the Joneses – sorta resentful, like.
We live next door to where they were moving in, so natural enough Julie and I gave 'em a hand, all neighbourly and that, and I think they were right grateful.
Nice couple, same as you and me, as far as they could be - John and Sue they were - and truth be told me and Julie got on well with the both of them. They said it looked like a much nicer place than they'd been before, and the time before that. Seems they'd had trouble in their past, which made me a bit nervous – I know it's not right to be prejudiced and so on, but trouble does seem to follow some of their kind around, doesn't it? Well, I talked to Julie and, we had the pair of them over for some drinks with Tony and Jill from over the road, very cosy. We even got some of that stuff they like to quaff by the pint, what's it called again ...?
Aha - here's my drink!
Cheers …
Ah. That's better.
So, where was I? My memory isn't what it used to be. Julie says I should get it sorted out, and I keep meaning to but I forget I've booked the appointment, ha ha!
It took some getting used to at first. The smells from their cooking, for one thing – stuff I hadn't smelled since I was a nipper. Didn't much care for it, to be honest, and I don't know where they got most of it. Still, we're a progressive lot, if you look past our country ways, which is probably why they ended up here.
Well, no, not so progressive, that's true.
They'd been here a week when the trouble starts - small stuff at first, kids knocking on the door and running away, "knock down Ginger" we used to call it when we was young.
Then it was bangers let off outside the house - not so much fun at 3am, I can tell you, even with your hearing turned low – the aftershock still resets your system.
Then the graffiti on the front door and the walls - "wetties go home", and nastier stuff, CamRoL logos, that kind of thing. Not nice. I helped them paint those out.
And this went on for months and months. Some of the other neighbours got scared and wanted them out, but Julie and me felt sorry for them, and stuck up for them as best as we could. And I think there was more than just a hint of CamRoL-style thinking in the air at some of those neighbourhood meetings.
Then it all came to a head when a gang of Steamers chucked a spanner through their front window one night. Those kids were laughing and hooting and spraying sparks everywhere like it was all a big joke for them, and chanting and whistling CamRoL slogans. I was so ashamed and angry, but I was too scared to go out to face 'em - Julie agreed with me, she said the grubby bastards'd tear me apart and throw the pieces over the roof. It was lucky the cops came as quick as they did and doused down the ringleaders' boilers. It could have been much worse otherwise.
Me and Julie went round there once the street was clear again, crunching across the spilt coal. There were a couple of police units outside, but I knew one of the coppers – Steve Cartwright - and he let us in.
The place was in a terrible state. The spanner (nice vintage job, I think it was a vanadium steel 4" AF Whitworth – I've got a couple myself), it was stuck in the wreckage of their little dining table. And it'd broken some vase and a dinner service they'd got for their wedding, so there was glass and pieces of crockery all over the place.
John was standing in his ruined room asking me, why did this keep happening, why do they hate us so much, and weeping and sobbing with his arms round Sue, and she was in shock. Tears! I hadn't seen a man break down like that for ages, and it made me sad, but of course, I couldn't cry myself.
Me and Julie felt a bit awkward just standing there, traipsing coal dust in with us, so I patted poor John gentle like on his back and asked if we could help clean up.
But not that gentle, it seems, because I sent him sprawling into the broken table! I was horrified, tried to pick him up of course, but he wasn't having it. He swatted me away, picked himself up with Sue's help, and dusted himself off, angry like, all the while shouting that our kind had done enough already and even when we were being helpful it still caused too many problems. Well, that pissed me off a bit, and I thought it was a bit rich anyway coming from one of his lot, but I didn't say it out loud. I'm sorry to say I was a bit hoity-toity, though, and drew myself up and reminded him that Julie and I had taken their side against the other neighbours and the Campaign for Robot Life lot, and I said I thought we should be going, because I could see we were doing more harm than good, and we could tell when we wasn't welcome. He dug a hanky out from his trousers and held it to the cut on his head where he'd banged it on the table when I sent him flying. (Yes, monkey blood! That's not something you see much of these days, is it?) He looked up at me in a sad and kind of tired way like he wanted to say something, and I could see he was a bit afraid of me (little me! – and I'm half the size of them Steamer lads – wouldn't hurt a fly, me!) In the end he just nodded his head, and him and Sue held on to each other, not looking at us, him with his red hanky, and her with her tear-streaked face. That's how we left them, quiet like.
The next day they were gone, I dunno where they went.
I wish now we hadn't left 'em that night but at the time all I could think of was what went on back in the 20th and 21st and 22nd centuries, how people like them were so shitty to each other, and then how those same bloody monkeys treated us – I was there, I was one of the first, you know. Some of us got far worse than a spanner through the window and a broken plate or two. And I know there have been a few misunderstandings between us and the Baseliners since then – well, yes, OK, now you mention it, I suppose it has been megadeaths over hundreds of years. I s'pose that's why there's so few of them left today – when you've been Uploaded as long as me, you do rather forget what pain is like, and how easy it is to break your basic human.
I did wish those soft little people well, though, and from time to time I've wondered how they were. I guess one way or another they'll probably be dead by now. This was, what, not even a couple of hundred years ago? I don't understand people who stay basic, I really don't … Maybe they changed their minds and got themselves Uploaded. But I don't think they were the sort to do that. Pity, really.
Let's not get maudlin. Tell you what, next round's on me. They do a good Real Oil here, none of that Castrol stuff – and I'm not touching that bloody monkey beer again, that stuff gives me a chronic case of the short circuits.
Now, any decent gossip from your neck of the woods …?
Posted by daen at 01:52 PM | Comments (0)
1+1
This fragment of a journal was recently discovered in the archives of the Royal Society of London
Wednesday, May 19th 1841
The name of John Parkinson, FRS, shall resonate through history, and that fraudulent designer of the unbuildable, Charles Babbage, shall be consigned to oblivion. I have, as of today, proven my design workable, and have shown its calculational abilities to be as superior to the clockwork toys of Babbage as a human being is to an amoeba. Any remaining morning dew of self-doubt has evaporated under the blazing ascendant sun of my genius!
"The Core" is a thing of beauty. I marvel at its compactness: the hundreds of thousands of dynamically adjustable gears and linkages all housed within a space no larger than a suitcase; the card reader receiving the encoded problem via stacks of punched cards; and the output punch passing its own cards to the automatic printing press. It was with a trembling hand that I held the machine's first printed calculations, and saw that they were correct.
I have arranged a demonstration for The Admiralty three weeks hence, which will pay good coin for the production of accurate tide tables and suchlike. After these years of toil, little of my inheritance remains, and this opportunity presents my best chance for replenishing the coffers.
However, Albert Smith is acting most peculiarly again. Today, he pondered as to how to divert cards from the output punch back in to the card reader – an entirely pointless exercise! My belief that my young apprentice is deranged was further reinforced with occult utterances about "self-modification" and "feedback".
Tuesday, May 25th
Smith has added his "output-feeding-input" folly on to the Core! He excitedly described certain classes of algorithmic problem which can be addressed with such an approach. This may well be so, but it is irrelevant, and I have instructed him to remove his modifications. In little over a fortnight, the Core is to be presented to the Admiralty – in its original form – before which he has much work to do. And now, equally, to undo.
Thursday, May 27th
After but a day's absence, I find that Smith has strewn my path to glory with the Devil's own night soil! He had failed to restore the Core to my original design, instead choosing to busy himself with the crafting of a set of cards whose purpose is to repeatedly readjust the delicate mechanisms of the Core, and had allowed this process to continue for twenty four consecutive hours, during which period, it seems, he had neither slept nor eaten. Nor had he, judging by the close fug in the workshop, bathed. This was not, however, the end of the good news. The incessant abuse has caused the Core to enter a state from which it cannot be reset, save by being rebuilt.
At the mention of rebuilding, Smith spoke insubordinately, and with some passion, saying that the Core (which he pronounced "Cor-a") was "afraid", and that "she" looked to him as "her" friend and protector. I have naturally now released him from his indentures and have had him escorted from the premises before any further harm can ensue. Any more of this arrant lunacy and I am certain that I should be considering taking lodgings at Bedlam!
I am now compelled to disassemble and reassemble mechanisms which took months of effort to construct, and, without assistance, must achieve this Olympian work within the span of two weeks. However, I have found the day's events too trying to embark upon this task tonight.
I pray God that something of value for the Admiralty may be salvaged from this on the morrow, and that Babbage does not learn of my humiliations.
Friday, May 28th
I was awoken at five o'clock this morning by a frantic Mrs White and came downstairs to the hall, as smartly as decorum would permit, to be met by two constables of the Yard, who proceeded to inform me that the workshop had been burglarized during the course of the night, and would I please go with them in order to inventory the stolen items.
My fears were confirmed upon arrival. Nothing of value had been taken – save for the Core itself. There was little damage, apart from an upturned box of punched cards, and a broken window, through which the burglar had gained ingress and egress.
One of the cards drew my attention. I have it here in front of me. It is punched with an intricate pattern of hearts, intertwined with the words "Albert" and "Cora" repeating over and over in a flowing script, almost resembling a woman's hand.
It is pretty thing to behold … most pretty indeed.
Perhaps the Admiralty might like it?
Posted by daen at 01:49 PM | Comments (0)
October 25, 2006
Six word sci-fi
For those of you with short attention spans, there is ... hello? Yes, over here; I'm talking to you! Where was I? Oh, yes ... there is an article in "Wired" with about 70 six word SF stories commissioned by a variety of authors such as Margaret Atwood, Neil Gaiman, Charlie Stross, Cory Doctorow, Michael Moorcock, Harry Harrison and Ken MacLeod. My favourite? This:
He read his obituary with confusion.
- Steven Meretzky
(thanks boingboing)
Posted by daen at 06:20 PM | Comments (0)
August 16, 2005
The Concrete Jungle
So, Charlie Stross won a Hugo award for "The Concrete Jungle", apparently. Good for him. It is an excellent story. Read it now.
Posted by daen at 02:38 AM
July 28, 2005
American Gods
I recently bought Neil Gaiman's "American Gods" on no more than a whim. Seems that pretty much any book by Gaiman is worth a read, and no more so than this one.
"American Gods" begins with the story of a small-time con named Shadow who has served three years for assault and who is looking forward to being released in two days so he can go back to his wife and start anew. Then he is unexpectedly summoned to the warden's office and is told he is being released early because his wife has died in a car crash. Strange things begin to happen, starting with meeting Mr Wednesday on the plane back to his wife's funeral. Wednesday offers him a job, but knows more about Shadow than he should. When the plane is diverted due to bad weather, Shadow impulsively get off, hires a car and drives to a bar in the middle of nowhere where he buys dinner. And then, in the mens' room, he finds Wednesday patiently waiting for him. Suffice to say, Wednesday is not just some petty crime boss, and soon Shadow finds himself embroiled in some serious voodoo ...
"Scary, strange and hallucinogenic", says the blurb. You bet.
The sequel, "Anansi Boys", is out on September 20. I'm not sure whether I'll get it straight away (my days of snapping up bulky hardcover editions are over) but I sure am looking forward to reading it.
Posted by daen at 01:19 PM
July 25, 2005
Accelerando
Charlie Stross's book much-lauded new book, "Accelerando", is available for free download as an ebook edition under a Creative Commons license. You can get it as plain HTML, Rich Text, PDF, ASCII, a Palm DOC or Plucker ebook format.
Best quote so far:
"You know your marriage is in a bad way when you send your spouse messages via the CIA, and she communicates using the IRS."
There's also an Accelerando technical companion in Wiki form for those of you who aren't 15 minutes ahead of the technology curve ...
Posted by daen at 07:13 PM
May 19, 2005
Star Wars
Apropos of nothing at all, I somehow feel cheated that Lucas released episodes IV to VI first : we know what happened to Anakin Skywalker and his progeny already, so what's the big deal? Slippery slope blah blah dark side blah blah look out for that lava blah blah bucket on head - rest is (pre-)history.
Maybe I'm getting old?
But then, I am looking forward to the Hitchhiker's Guide to the Galaxy ...
So, not old, then, just sad.
Posted by daen at 08:35 PM
May 04, 2005
Happy Star Wars Day!
Just got time to say : May the Fourth be with you ...
Posted by daen at 11:59 PM
October 21, 2004
Stephen Dewey's homepage
Stephen Dewey is a fellow student studying for the Open University's MSc in Science. He writes really quite excellent speculative fiction such as "Ten Hypothetical and Plausible Deaths in London" and "The Circus".

Posted by daen at 11:34 PM
September 20, 2004
A Billion Days of Earth
"A Billion Days of Earth" (Doris Piserchia, 1976) is a story set about 3 million years hence, when mankind has evolved to godlike status, and the animals of today have become sapient. I first read ABDoE about 20 years ago, and only remembered the title tonight (actually because of some artwork Patrick Woodroffe did for a Brian Aldiss novel ...).
There's a Doris Piserchia website (put together by Joanna Pataki and Tom Moody with, among other things, a bibliography, cover art, review of ABDoE and an interview with DP (she doesn't like many of the covers, BTW - neither did I)
Dani Zwieg also has some short DP story reviews here.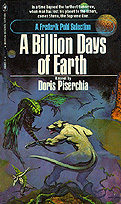 Posted by daen at 10:22 PM
June 19, 2004
The Medicine Man
"... x ... ik' ... huuuuh. Huh! Oh! Sensual bliss! Moist warmth cradles. Insensate, recline, let it wash over. Emotions inflame, then, look! They spiral away, like ash from an Autumn bonfire. Vague memories teasingly turn solid, wave and run away from me giggling, barefoot across a cool, green lawn. Who was that pretty girl? What the hell is this? What's happening to me? What are these wires and tubes? Why so many questions? Where is that pain coming from? What is going on?"
"Don't panic. Steady the heartbeat. Deep breath ... Calmly does it ... but ... still ... where does all this come from?! I think it, therefore it is?! Is that it? No, steady, steady. There must be a beginning to all this, a reason. Yes, you're a rational man. Aren't you? What's the first thing you remember? Before that? Susan? Is that you, sweetheart? But, what's the last thing you remember? Is this it? And then? Ahh. ... Huh! Ik' ... x ... '."
...
"Room 2.718", said a small metal plate on the double doors that they stopped in front of, just below the conspicuous biohazard and genohazard warnings and government disclaimers. Most of the small tour party knew that this little tag concealed an enormous, bizarre and badly kept secret. As they stood and shuffled around on the gently lit bare copper-coloured metal floor, their excitement manifested itself as a slight increase in the buzz of conversation, as an almost imperceptible uneasiness in their collective body language. As if prompted, the tall man in the white coat turned to address them. One slim redheaded girl of medium height, dressed in the student fashion of green pantaloons, red crepe platform shoes and dinner jacket, discretely pushed to the front, apparently keener than the rest to enter. "Now", said the tall man, glancing briefly at her, and wondering why she looked familiar, "before we conclude the tour, many of you will be pleased to know that we have saved the best until last."
Many in the group exchanged knowing asides and glances and grins - they knew what lay beyond. The redheaded girl waited calmly at the front on the group. Her gaze unnerved the tall man slightly for reasons he couldn't quite fathom, but he gave no real thought to her scrutiny, not yet, not yet.
Unable to resist the opportunity to lecture to an audience, he wiped his hands on his lab coat and continued. "Throughout the 21st century, advances in bioinformatics far outstripped the ability of researchers to use the data produced. By 2060, the genomes of half of all species known to mankind had been sequenced. In 2074, Christensen and Yu developed techniques which allowed secondary, tertiary and quatenary protein structure to be computed. Drug discovery received a much-needed boost in the arm, and many pharmaceutical companies today owe their existence to those papers."
Some of the tour party shuffled and coughed in the resonant corridor, impatient but subdued - the tall man was covering ground which was very familiar to most of them, but his reputation invited respect, even for the boring bits.
"So we had, and were able to make use of, to a great extent, genomes, transcriptomes, proteomes, and soon after interactomes, metabolomes, cellomes, cytomes, morphomes, systeomes, mobile'omes!". His audience laughed politely. He paused briefly to allow them to settle down again.
"The great triumph of applied and theoretical systems biology was to integrate these back into one system, which eventually accelerated drug development by more than 20-fold with a multi-thousand-fold reduction in cost. Malaria. Eradicated. Breast cancer. Vanquished. Congenital defects. Fixed. But I must warn you that in spite of these triumphs, some people are slightly ..." - and here, he paused, although whether for effect or out of perplexity over the perverseness of people, none could say - "... disturbed, shall we say, by the technology that allowed this to happen – what you are about to see behind these doors. So I would kindly ask those of you with sensitive dispositions either to stay here in the corridor or return to the lecture room, where coffee and biscuits will be served for you. Please be warned, we may take some time."
He waited for any signs of acknowledgement of this offer. The tour party still waited with varying degrees of impatience: they would all forego their coffee and biscuits, for now. Shrugging, and perspiring slightly, he turned to the door's complex biometric access panel, glanced into the retinal recognition unit, and placed his hand upon one of the doors' handles, his long white fingers enfolding it. The handle, recognising the palmprint of one of the leading minds in science, made ready to discharge its small but significant duty.
"Ladies and gentlemen", said the tall man quietly, as the complex locking mechanism retracted and the sealed doors breathed slightly as they flexed on their colossal hinges. "I give you : the Chamber of the Medicine Man".
He pushed gently on the handle, which caused the massive doors to part and swing slowly open. The redheaded girl held her breath and involuntarily made small red crescent marks in her palms with the fingernails of her clenched fists. However, along with the rest of the party, she had no intentions of remaining in the corridor. They stepped in.
The doors opened onto an enormous viewing gallery with tiered seating for maybe a thousand people, ghostly white in colour, faced by a single vast window spanning from side to side, and top to bottom, slightly recurved to project out over the space below.
Pale lighting systems flickered into operation both within and below. This light was not the restful cream colour of the corridor. This was a businesslike light, white, anaesthetic, a light for working by, that spoke directly and tauntingly through the eyes that received it to the brain beyond : if you don't like what you can see, you should have gone and had your coffee, you poor thing.
It illuminated a quiet scene below. A vast room, wide and deep, white as ice, was centred around a cluster of huge medical robots, impossibly entangled masses of chromium supports and titanium rods and steel pulleys, gleaming wires and tubes, devices holding clean glass dishes and shining metal bowls, delicate looking lasers and scalpels and forceps and hooks and saws and drills suspended, waiting, and all under the supervision of state-of-the-art and precisely controlled medical computers, plastic covered and triplex redundancy insured, all standing silently, surrounding a shape, also immobile, unclear, beneath the technology, on an operation couch. Small green and red lights blinked and flashed in interesting patterns on consoles not normally seen by the human eye, there in equal measure to impress and to inform if, or when, things went wrong.
Against the walls stood great matrix-coded and labelled tanks and banks of opaque milky fluid, clear glass containers embedded with an array of matt white cooling systems, with somehow familiar but indefinite shapes reclining within. Small retrieval robots stood at intervals, awaiting commands to fetch or store. Suddenly, without sound, warning or apparent signal, one moved smoothly into life.
"Ah, this is a good time to be here," the tall man said, noting the movement of the retrieval robot towards a bank of tanks at the rear of the room, perspiration gathering on his brow again in spite of the exact 20 C of the room. "We've just this morning finished developing the protocols and in silico studies for a new subtype selective 5-HT agonist. My co-worker on this, Dr Kuzan, must have just uploaded his data, although I can see that preparations have been underway for a while. All makes for a good show, eh?". He mopped his forehead with the sleeve of his lab coat. Some of the tour party smiled in broad agreement. Many of the others nodded, but looked as pale as the decor. The redheaded girl set her jaw, gave no sign that she had heard. One fingernail tore the skin on her right palm, causing it to bleed a little.
The retrieval robot reached a bank of tanks. Mounting a ratcheted ladder-like attachment to one side, it ascended to the fifth row and extended its retrieval device, a complex of hair's-breadth delicate fibres mounted on support arms no thicker nor apparently more substantial than a drinking straw. The top of the tank opened jerkily, and the robot lowered the retrieval device into the tank, where micromanipulator arms extended and unplugged unseen connections from the small shape within, until it floated free. The robot lifted its precious cargo from the tank, and the group jointly exhaled. Even from this distance, it was possible to see what the robot's catch was. Cradled in the net, held carefully in place by the support arms, was an intact human brain.
Not a word was said by the watchers as the robot descended to the floor and moved slowly but confidently across to where the medical robots stood. Like the sudden resolution of a visual puzzle or the movement of an intricately constructed kinetic sculpture, or a mobile thicket of metal spikes and thorns, they parted to allow the little retrieval robot room to approach the couch. But as the robots moved aside, for the first time since they had entered the room the group had a clear view of what lay on the couch. A shock passed through the tour party, even among those who knew what this room was, what it was used for and who used it. Some of the tour party who had looked robust enough earlier paled slightly, and some of those who were pale already now looked distinctly queasy. "God save us all," a man muttered. Nobody else spoke.
A naked man lay face up, eyes closed, as if peacefully asleep. His arms and legs were lightly strapped to the couch in a natural position - arms a little away from the body, legs slightly parted. His skin looked healthy but pale and strange. Light scarlines could be seen covering his torso and chest and limbs, regular but faded. His head was also strapped to the couch. It was sliced open at the crown. The top of his skull lay a metre away, resting skin side up in a device which looked similar to the retrieval mechanism used by the little robot, although this one was attached to one of the larger medical robots. He was completely hairless. A slim bundle of fibres, tubes and wires snaked into the open, empty skull, the other end disappearing somewhere in one of the medical robots. He was uttely motionless.
"We checked autonomous functions earlier with a test organ, and now we're supporting them externally. It looks like we're ready for the overexpressed 5-HT9B receptor organ to be implanted now. This is excellent! I thought we might just give you the demo, but you're going to get the full show!" For whatever reason the enthusiasm of the tall man's words wasn't echoed by his face or voice.
The little robot was relieved of its load by one of the hulking medical robots, and as the fence of gleaming metal protrobuerances closed around the couch again, the retrieval robot returned to its post.
A moment of peace, like prayer, suddenly passed, and the tangle of medical devices, as one, began moving, too fast for the eye to follow. It seemed impossible that the entangled meshes of rods and tubes and surgical instruments did not impede each other's progress. All that could be reliably reported over the next hour was an impression, somewhat blurred - somehow, the bundle of fibres and tubes bowed and split away from each other to make room for the new brain, which was seated in the open brain pan, and sharp instruments glittered in the unholy light as the nerve fibres at the brain stem and blood vessels were attached, lasers stuttered and flickered, bundles of autonomous function support fibres and tubes were withdrawn, slim elongated and jointed instruments mended the meningeal membranes, the top of the skull was reattached, and the man's green-grey eyes flashed blindly open and he screamed, but they couldn't hear him in the soundproofed viewing gallery.
------ TO BE CONTINUED -------
Posted by daen at 09:35 PM
March 30, 2004
"Consider Phlebas"
Gary Wilkinson invokes "Poetic Licence" in this comparison of Iain Banks' sprawling space opera "Consider Phlebas" and T.S.Eliot's epic poem "The Wasteland".
The Jinmoti of Bozlen Two kill the hereditary ritual assassins of the new Yearking's immediate family by drowning them in the tears of the Continental Empathaur in its Sadness Season
Posted by daen at 04:15 PM