« July 2004 | Main | September 2004 »
August 28, 2004
Modern wisdom from historical wrongdoers
Göring: "Why, of course, the people don't want war. Why would some poor slob on a farm want to risk his life in a war when the best that he can get out of it is to come back to his farm in one piece. Naturally, the common people don't want war; neither in Russia nor in England nor in America, nor for that matter in Germany. That is understood. But, after all, it is the leaders of the country who determine the policy and it is always a simple matter to drag the people along, whether it is a democracy or a fascist dictatorship or a Parliament or a Communist dictatorship."
Gilbert: "There is one difference. In a democracy, the people have some say in the matter through their elected representatives, and in the United States only Congress can declare wars."
Göring: "Oh, that is all well and good, but, voice or no voice, the people can always be brought to the bidding of the leaders. That is easy. All you have to do is tell them they are being attacked and denounce the pacifists for lack of patriotism and exposing the country to danger. It works the same way in any country."
Sound familiar?
Posted by daen at 01:06 AM
August 26, 2004
Indexing Office (Word, Excel, PDF) documents in Plone
Zope.org - Indexing Office (Word, Excel, PDF) documents using ZAAPlugins
Posted by daen at 03:56 PM
Exchange RSS sink
Glen's Exchange Dev Blog: Public folder RSS Feed Event sink
Posted by daen at 03:50 PM
August 24, 2004
What Iz The Whiz®?
The Whiz® is a soft, white, plastic funnel coated with an anti-bacterial agent. It changes the punchline to the old joke "What is it a man does standing up, a woman sitting down, and a dog on three legs?" (Answer: shaking hands).
As highlighted in the BBC article "Girls beat Glasto toilet nightmare".
Posted by daen at 11:11 PM
August 23, 2004
Burgh Island
In 1941, Agatha Christie wrote the Poirot story "Evil Under the Sun" on Burgh Island, just off the Devon coast. The Beeb went there to film that particular Poirot episode sixty years later.
Posted by daen at 11:24 PM
Flickr
Photo sharing website Flickr is very interesting - camera phone upload, EXIF digital camera info, calendar based organizer, RSS feeds ...
Posted by daen at 02:02 PM
August 22, 2004
Molecular Discovery Ltd
The homepage of Molecular Discovery Limited - ALMOND, GRID and Volsurf software.
Dr. Massimo Baroni is the Chief Scientific Officer and the scientist responsible for the Company's products.
Dr. Silvio Mecucci is Head of ADME technology
Dr. Riccardo Vianello is Head of Metabolism technology
Dr. Gianluca Sforna is Head of Communication technology
Dr. Ismael Zamora is Head of project management
Prof. Gabriele Cruciani from the Laboratory for Chemometrics and Cheminformatics at the University of Perugia
Dr. Manuel Pastor from the GRIB at IMIM/UPF in Barcelona
Prof. Peter Goodford from LMB, Oxford, UK.
Prof. Tudor Oprea from Sunset Molecular Discovery LLC
Posted by daen at 11:27 PM
August 17, 2004
Dihydrogen monoxide
Disturbing website on this little-known chemical.
Dihydrogen Monoxide (DHMO) is a colorless and odorless chemical compound, also referred to by some as Dihydrogen Oxide, Hydrogen Hydroxide, Hydronium Hydroxide, or simply Hydric acid. Its basis is the unstable radical Hydroxide, the components of which are found in a number of caustic, explosive and poisonous compounds such as Sulfuric Acid, Nitroglycerine and Ethyl Alcohol.
Posted by daen at 12:00 PM
Mashie Niblick
What's a mashie niblick? What do you mean, you don't know? Look it up!
Posted by daen at 11:00 AM
Bangalore Bio
A link to the Bangalore Biotech website.
Posted by daen at 10:59 AM
XP SP2
Gaagh. I didn't want to post anything about SP2, but ...
Tim Mullen wrote this upbeat appraisal of XP SP2 at the Register.
XP SP2 support centre.
Here's the KB list of XP SP2 broken apps.
Here's the KB list of XP SP2 apps with "altered states" after SP2.
Vendor contact details : A-K L-P Q-Z

Posted by daen at 10:55 AM
August 14, 2004
ROM images for Atari emulators
The Atari pages at online.pl have literally hundreds of ROM images for use with your Atari 400/800 emulator.

Posted by daen at 11:34 PM
August 09, 2004
Opera in Tisvilde
The fifth Opera in Tisvilde was on Saturday night. For the first time of the four times I've been, it didn't rain. The director of the Royal Opera, Kasper Bech Holten, "sang" the part of Benoit in Act 1 of La Boheme. Coincidence? You tell me ...
More text + photos soon.
Posted by daen at 11:18 AM
August 05, 2004
Googling for unusual words - and as a party game ...
"Unclimbability" is a word with an interesting history on Google (see my previous entry):
Feb 2003 - no hits
Jul 2003 - 1 hit
Aug 2004 - 5 unique hits (27 total hits)
OK - "undescendability", "unreinsurability", "unreimpeachability", "reclimbability", "unreclimbable" or "unreclimbability" have no Google hits (well, one after this blog entry hits the Google servers) ... let's see how long it takes for that to change! There's one hit for "reclimbable", but it's a misseplling misspelling of "reclinable".
And here's the link to the game.
Posted by daen at 11:44 PM
August 03, 2004
How to be creative
In his own words, Hugh "cartoons drawn on the back of business cards" Macleod is a creative director who writes about the grim new realities of the advertising business. Gapingvoid is his vehicle, and this is "how to be creative".
Posted by daen at 02:09 PM
Rotating earth watch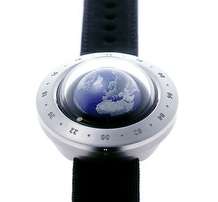 Boing Boing describes this rotating earth-model watch. I want one!
Posted by daen at 01:53 PM
Global Genomics AB
Posted by daen at 11:01 AM
August 02, 2004
FUH2
The Hummer 2 is a gas-guzzling beast of a car. It weighs 8,600 lbs (3,930 kg) which is about the weight of 3.4 Mini Coopers at 2,530 lbs (1,150 kg). FUH2 is a celebration of this whale of a car, with accompanying salutes.
Posted by daen at 04:35 PM