« May 2004 | Main | July 2004 »
June 28, 2004
Kongens Nytorv 2003-2005
The 300 year-old "New Royal Square" has been getting a makeover for the 200th anniversary of Hans Christian Andersen's birthday. When finished, there will be something like 1,000,000 granite cobblestones making up the new paved areas.
Some of the most famous places in Copenhagen (apart from Tivoli and Christiania, of course) surround Kongens Nytorv ...
No. 1
Charlottenborg, which is home to the Royal Danish Academy of Fine Arts. The building is from the late 1600s, and the Academy are celebrating their 250th anniversary this year with exhibitions and other events.
No. 9
Det Kongelige Teater (The Royal Theatre). Built in 1872, its main doors are "guarded" by statues of playwright Ludvig Holberg and poet Adam Oehlenschläger. Currently the setting for most ballet, theatre and opera in the city, although a huge new opera house opens on the other side of the canal in 2005, and a new theatre is opening on Kvæsthusbroen in 2007.
No. 13
Magasin du Nord. Big department store in an impressive building. Expensive stuff, designer labels, cafés and an excellent food store in the basement. Did I mention it was expensive?
No. 17
Café à Porta. Built in 1857, shut down in 1973, and reopened under new ownership in 1999. Excellent coffee. Also, pricey!
No. 19
Hviid's Vinstue. Built in 1723. One of the oldest pubs in Copenhagen. Still has the original bar staff. Only joking.
No. 34
Hotel D'Angleterre (yes, they spell it with a capital "D"). Perhaps the most exclusive and expensive hotel in Copenhagen. If you're Maddona/Clint Eastwood and you want to stay in Copenhagen, where do you go? No prizes for guessing. The building dates from 1792 and has hosted politicians as well as celebs, including Winston Churchill and Otto von Bismarck (although perhaps not at the same time).
No. 4
The Thott Mansion. Built in 1683 by Danish naval hero Niels Juel, since 1930 this building has housed the French Embassy. I don't want to be undiplomatic, but, splendid building though it is, it really could do with a bit of replastering and paint. Come on you French!
Nyhavn
Built in 1673, the Nyhavn canal area now bustles with tourists and locals who frequent the many outdoor bars and restaurants on sunny days. Several canal and harbour boat tours also start and end here (DFDS for example).
Posted by daen at 10:59 PM
Antihistamines : not to be sniffed at
Loratadine is a non-sedating antihistamine important during the high pollen days of spring. It is a histamine H1-receptor antagonist. It's the active ingredient in Claritin, and it's what I use to combat my hayfever.
Here's some antihistamine background.
Posted by daen at 10:27 PM
Euro 2004 : What went wrong for England
Well-meaning England rugby captain Johnny Wilkinson explained to his mate David what happened at the rugby World Cup in Oz last year ...
Posted by daen at 10:13 PM
June 27, 2004
SpaceShip One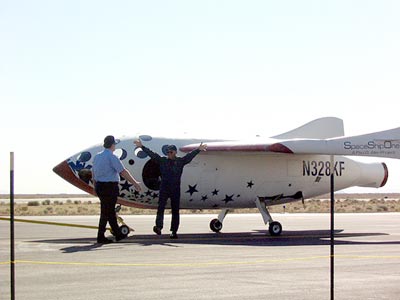 Spaceflightnow.com has this story on Scaled Composite's SpaceShip One 100km flight. Pilot Mike Melvill said:

"I must say, I wasn't scared, I was a little nervous when I got in the airplane, but I was not afraid all the way up. But I was a little afraid on the way down. Boy, when you re-enter at 2.9 Mach and you start hitting the atmosphere, the noises you hear are somebody talking to you very, very sharply. You know, you begin to believe, wow, should I really be doing this?"
Quite.

Posted by daen at 11:40 PM
June 21, 2004
Linköping
Linköping stands on the Stångan river ... I took this shot on the evening of June 4, looking West back to the town and the sunset - you can just see the cathedral in the distance.
Posted by daen at 01:26 AM
Chemoinf.com - cheminformatics portal
Posted by daen at 01:05 AM
June 20, 2004
COSMAS : (Chem) -informatics
Posted by daen at 10:04 PM
June 19, 2004
The Medicine Man
"... x ... ik' ... huuuuh. Huh! Oh! Sensual bliss! Moist warmth cradles. Insensate, recline, let it wash over. Emotions inflame, then, look! They spiral away, like ash from an Autumn bonfire. Vague memories teasingly turn solid, wave and run away from me giggling, barefoot across a cool, green lawn. Who was that pretty girl? What the hell is this? What's happening to me? What are these wires and tubes? Why so many questions? Where is that pain coming from? What is going on?"
"Don't panic. Steady the heartbeat. Deep breath ... Calmly does it ... but ... still ... where does all this come from?! I think it, therefore it is?! Is that it? No, steady, steady. There must be a beginning to all this, a reason. Yes, you're a rational man. Aren't you? What's the first thing you remember? Before that? Susan? Is that you, sweetheart? But, what's the last thing you remember? Is this it? And then? Ahh. ... Huh! Ik' ... x ... '."
...
"Room 2.718", said a small metal plate on the double doors that they stopped in front of, just below the conspicuous biohazard and genohazard warnings and government disclaimers. Most of the small tour party knew that this little tag concealed an enormous, bizarre and badly kept secret. As they stood and shuffled around on the gently lit bare copper-coloured metal floor, their excitement manifested itself as a slight increase in the buzz of conversation, as an almost imperceptible uneasiness in their collective body language. As if prompted, the tall man in the white coat turned to address them. One slim redheaded girl of medium height, dressed in the student fashion of green pantaloons, red crepe platform shoes and dinner jacket, discretely pushed to the front, apparently keener than the rest to enter. "Now", said the tall man, glancing briefly at her, and wondering why she looked familiar, "before we conclude the tour, many of you will be pleased to know that we have saved the best until last."
Many in the group exchanged knowing asides and glances and grins - they knew what lay beyond. The redheaded girl waited calmly at the front on the group. Her gaze unnerved the tall man slightly for reasons he couldn't quite fathom, but he gave no real thought to her scrutiny, not yet, not yet.
Unable to resist the opportunity to lecture to an audience, he wiped his hands on his lab coat and continued. "Throughout the 21st century, advances in bioinformatics far outstripped the ability of researchers to use the data produced. By 2060, the genomes of half of all species known to mankind had been sequenced. In 2074, Christensen and Yu developed techniques which allowed secondary, tertiary and quatenary protein structure to be computed. Drug discovery received a much-needed boost in the arm, and many pharmaceutical companies today owe their existence to those papers."
Some of the tour party shuffled and coughed in the resonant corridor, impatient but subdued - the tall man was covering ground which was very familiar to most of them, but his reputation invited respect, even for the boring bits.
"So we had, and were able to make use of, to a great extent, genomes, transcriptomes, proteomes, and soon after interactomes, metabolomes, cellomes, cytomes, morphomes, systeomes, mobile'omes!". His audience laughed politely. He paused briefly to allow them to settle down again.
"The great triumph of applied and theoretical systems biology was to integrate these back into one system, which eventually accelerated drug development by more than 20-fold with a multi-thousand-fold reduction in cost. Malaria. Eradicated. Breast cancer. Vanquished. Congenital defects. Fixed. But I must warn you that in spite of these triumphs, some people are slightly ..." - and here, he paused, although whether for effect or out of perplexity over the perverseness of people, none could say - "... disturbed, shall we say, by the technology that allowed this to happen – what you are about to see behind these doors. So I would kindly ask those of you with sensitive dispositions either to stay here in the corridor or return to the lecture room, where coffee and biscuits will be served for you. Please be warned, we may take some time."
He waited for any signs of acknowledgement of this offer. The tour party still waited with varying degrees of impatience: they would all forego their coffee and biscuits, for now. Shrugging, and perspiring slightly, he turned to the door's complex biometric access panel, glanced into the retinal recognition unit, and placed his hand upon one of the doors' handles, his long white fingers enfolding it. The handle, recognising the palmprint of one of the leading minds in science, made ready to discharge its small but significant duty.
"Ladies and gentlemen", said the tall man quietly, as the complex locking mechanism retracted and the sealed doors breathed slightly as they flexed on their colossal hinges. "I give you : the Chamber of the Medicine Man".
He pushed gently on the handle, which caused the massive doors to part and swing slowly open. The redheaded girl held her breath and involuntarily made small red crescent marks in her palms with the fingernails of her clenched fists. However, along with the rest of the party, she had no intentions of remaining in the corridor. They stepped in.
The doors opened onto an enormous viewing gallery with tiered seating for maybe a thousand people, ghostly white in colour, faced by a single vast window spanning from side to side, and top to bottom, slightly recurved to project out over the space below.
Pale lighting systems flickered into operation both within and below. This light was not the restful cream colour of the corridor. This was a businesslike light, white, anaesthetic, a light for working by, that spoke directly and tauntingly through the eyes that received it to the brain beyond : if you don't like what you can see, you should have gone and had your coffee, you poor thing.
It illuminated a quiet scene below. A vast room, wide and deep, white as ice, was centred around a cluster of huge medical robots, impossibly entangled masses of chromium supports and titanium rods and steel pulleys, gleaming wires and tubes, devices holding clean glass dishes and shining metal bowls, delicate looking lasers and scalpels and forceps and hooks and saws and drills suspended, waiting, and all under the supervision of state-of-the-art and precisely controlled medical computers, plastic covered and triplex redundancy insured, all standing silently, surrounding a shape, also immobile, unclear, beneath the technology, on an operation couch. Small green and red lights blinked and flashed in interesting patterns on consoles not normally seen by the human eye, there in equal measure to impress and to inform if, or when, things went wrong.
Against the walls stood great matrix-coded and labelled tanks and banks of opaque milky fluid, clear glass containers embedded with an array of matt white cooling systems, with somehow familiar but indefinite shapes reclining within. Small retrieval robots stood at intervals, awaiting commands to fetch or store. Suddenly, without sound, warning or apparent signal, one moved smoothly into life.
"Ah, this is a good time to be here," the tall man said, noting the movement of the retrieval robot towards a bank of tanks at the rear of the room, perspiration gathering on his brow again in spite of the exact 20 C of the room. "We've just this morning finished developing the protocols and in silico studies for a new subtype selective 5-HT agonist. My co-worker on this, Dr Kuzan, must have just uploaded his data, although I can see that preparations have been underway for a while. All makes for a good show, eh?". He mopped his forehead with the sleeve of his lab coat. Some of the tour party smiled in broad agreement. Many of the others nodded, but looked as pale as the decor. The redheaded girl set her jaw, gave no sign that she had heard. One fingernail tore the skin on her right palm, causing it to bleed a little.
The retrieval robot reached a bank of tanks. Mounting a ratcheted ladder-like attachment to one side, it ascended to the fifth row and extended its retrieval device, a complex of hair's-breadth delicate fibres mounted on support arms no thicker nor apparently more substantial than a drinking straw. The top of the tank opened jerkily, and the robot lowered the retrieval device into the tank, where micromanipulator arms extended and unplugged unseen connections from the small shape within, until it floated free. The robot lifted its precious cargo from the tank, and the group jointly exhaled. Even from this distance, it was possible to see what the robot's catch was. Cradled in the net, held carefully in place by the support arms, was an intact human brain.
Not a word was said by the watchers as the robot descended to the floor and moved slowly but confidently across to where the medical robots stood. Like the sudden resolution of a visual puzzle or the movement of an intricately constructed kinetic sculpture, or a mobile thicket of metal spikes and thorns, they parted to allow the little retrieval robot room to approach the couch. But as the robots moved aside, for the first time since they had entered the room the group had a clear view of what lay on the couch. A shock passed through the tour party, even among those who knew what this room was, what it was used for and who used it. Some of the tour party who had looked robust enough earlier paled slightly, and some of those who were pale already now looked distinctly queasy. "God save us all," a man muttered. Nobody else spoke.
A naked man lay face up, eyes closed, as if peacefully asleep. His arms and legs were lightly strapped to the couch in a natural position - arms a little away from the body, legs slightly parted. His skin looked healthy but pale and strange. Light scarlines could be seen covering his torso and chest and limbs, regular but faded. His head was also strapped to the couch. It was sliced open at the crown. The top of his skull lay a metre away, resting skin side up in a device which looked similar to the retrieval mechanism used by the little robot, although this one was attached to one of the larger medical robots. He was completely hairless. A slim bundle of fibres, tubes and wires snaked into the open, empty skull, the other end disappearing somewhere in one of the medical robots. He was uttely motionless.
"We checked autonomous functions earlier with a test organ, and now we're supporting them externally. It looks like we're ready for the overexpressed 5-HT9B receptor organ to be implanted now. This is excellent! I thought we might just give you the demo, but you're going to get the full show!" For whatever reason the enthusiasm of the tall man's words wasn't echoed by his face or voice.
The little robot was relieved of its load by one of the hulking medical robots, and as the fence of gleaming metal protrobuerances closed around the couch again, the retrieval robot returned to its post.
A moment of peace, like prayer, suddenly passed, and the tangle of medical devices, as one, began moving, too fast for the eye to follow. It seemed impossible that the entangled meshes of rods and tubes and surgical instruments did not impede each other's progress. All that could be reliably reported over the next hour was an impression, somewhat blurred - somehow, the bundle of fibres and tubes bowed and split away from each other to make room for the new brain, which was seated in the open brain pan, and sharp instruments glittered in the unholy light as the nerve fibres at the brain stem and blood vessels were attached, lasers stuttered and flickered, bundles of autonomous function support fibres and tubes were withdrawn, slim elongated and jointed instruments mended the meningeal membranes, the top of the skull was reattached, and the man's green-grey eyes flashed blindly open and he screamed, but they couldn't hear him in the soundproofed viewing gallery.
------ TO BE CONTINUED -------
Posted by daen at 09:35 PM
June 13, 2004
JNI and Delphi
Using the Java Native Interface with Delphi
Posted by daen at 12:45 AM
June 06, 2004
C/C++ extensions for Python
sebsauvage.net : Writing C/C Python extensions without Microsoft Visual C
Posted by daen at 11:09 PM