« September 2003 | Main | November 2003 »
October 31, 2003
De Søde Liv
Next Sunday, my company is off to Rome for a week. All of us. What a lark!
Some of us went to see La Dolce Vita at the Danish Film Institute's Cinemateket on Tuesday night. A great film (especially the part with Anita Ekberg) but 173 minutes without a break is a lot to ask from an audience, Mr Fellini.

Posted by daen at 11:29 AM
Old and grey
My 35th year is well under way now (my birthday was last week). I had a great time - J. arranged for my Ma & Pa to fly over from Spain where they are spending their twilight years. All in complete secrecy. The first I knew about it was a lunch date last Wednesday with two extra and very familiar faces!
They were only here for three days, but it was great to see them both - Spain agrees with them.
On Sunday, J. and I went to Esrum Sø, Gribskov forest and Esrum Kloster (the old monastery nearby). The woods were wonderful, lit by a low autumn sun which made the golden-red chestnut and beech leaves glow like coals in a fire. It was cold, still and bright - a perfect autumn day (and great geocaching weather!). Watching the sun go down over Esrum Sø made me realise that summer is over, autumn is under way and soon winter will be with us. Still, Christmas will soon be here, and then it's only 3 months until spring (!).
Esrum Kloster was fun - good food and 500 year old architecture. They had an exhibition of medicinal products ("fra klosterhave til Medicon Valley") which was partly sponsored by Leo Pharma - will I never escape that name?!?
Posted by daen at 10:51 AM
October 30, 2003
Northern Lights over Copenhagen
Incredible. The recent solar storms have led to displays of the Northern Lights here in Copenhagen. Unfortunately, I don't have a photo, but here's a good one taken in Trondheim, Norway, which is very close to what we saw tonight.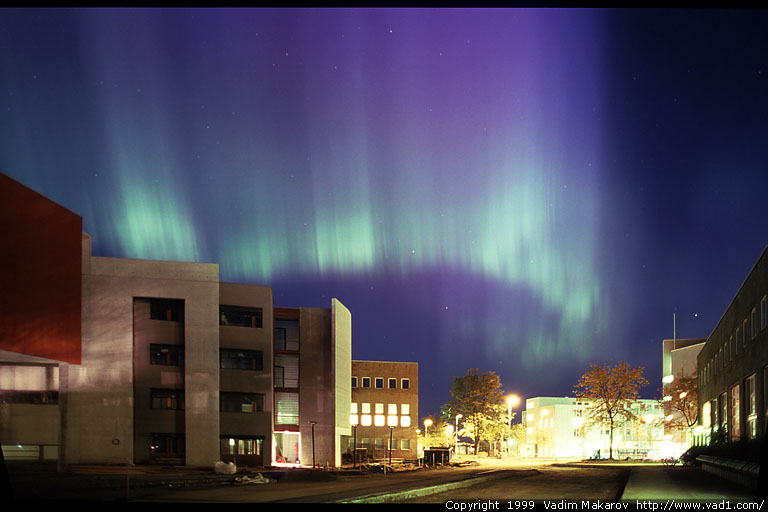 Posted by daen at 12:01 AM
October 14, 2003
A very long bit of wire with a dodgy name
For all the technology and impressive statistics, and the fact that it's the third of it's kind ...
... includes 39 landing points in 33 countries and 4 continents from Western Europe (including Germany, England and France) to the Far East (including China, Japan and Singapore) and to Australia. ... the longest [submarine cable] system in the world with a total length of 39,000 km. The use of Wavelength Division Multiplexing greatly increases the capacity of the network allowing high quality transmission all the way over distances as far as from Germany to Australia.
... it's still called SEA-ME-WE.
Posted by daen at 02:06 AM
October 13, 2003
Farewell, Rick Blake
I heard that Dr Rick Blake, formerly of the Computing Service at the University of Essex, died on 13th September, and was buried at Weeley Cemetery on 26th September. Rick had retired in 1991 due to ill health, and was well known as an enthusiastic cricketer, and was a local in many of the Wivenhoe pubs. I knew him for four years, from 1996 to 2000, as a regular drinker in the Greyhound, and sometimes I'd give him a wave when he paused for a bit of a sit down on the wall opposite my house, on the long trek up Queen's Road from his house to the pub or back again. His stick-thin frame, tweed jacket and floppy white hat made him instantly recognizable, but it was his ability to demolish the Times and Financial Times crosswords after 10 pints that amazed me. He was friendly, polite and clever, but his thirst for beer combined with cancer of the mouth, which conspired to rob him of his teeth in the late 90's, made conversation with him a challenging task for the uninitiated. Which is a shame, because those conversations often went far, wide and deep, and were all conducted through a wry grin. I'm sorry our paths didn't cross just one more time. I'll miss you Rick - you were a gent.
Posted by daen at 05:10 PM
October 10, 2003
OpenGFS failover working
WARNING! I think there are some factual errors in this, so be careful - I need to check tomorrow, but the crucial point is still in making the lock server a heartbeat managed cluster resource.
I'm assuming you have two nodes (mine are called fred and barney) in the cluster, both on the LAN and also preferably with a serial connection between them (for the backup heartbeat channel). I'm also assuming you want to use Samba here, if you have a heterogeneous network.
1. The OpenGFS config file should look something like this:

# the pool device that will contain the data(the larger of the 2)
datadev: /dev/sda3
# the pool device that will contain the cluster info(the small one)
cidev: /dev/sda1
# the IP:Port of the server that is going to be running memexpd
lockdev: 192.168.1.100:15697
# the port used for callbacks between cluster nodes(no other programs on your
# network should use this port, and it should be different for each OpenGFS
# setup on your network)
cbport: 3001
# time before a node is considered dead(lower number may mean faster recovery,
# but may lead to unnecessary STOMITHing in the case of slow nodes)
timeout: 30
# method used for STOMITHing "dead" nodes
# Manual - human intervention
STOMITH: manual
# unique name for this method
name:    manual
# Node Section
# Tag:			always "node:"
# IPAddr		IP address of the node
# CID			sequential numbers starting at 0
# STOMITH Method	"SM:" followed by the name from the particular STOMITH
#				Method you are going to use
# Plug/Port		if you are using a power switch this should be the plug
#				that the node is plugged into
#			if you are using FC hardware this should be the port
#				that the node is plugged into
# A simple example used for testing
#Tag	IPAddr		CID	STOMITH Method	Plug/Port
node:	192.168.1.1	0	SM: manual
node:	192.168.1.2	1	SM: manual

Note that there are three IP addresses - one for the lockdev (also know as the "lock server"), which will also be the cluster IP address in this case, and one for each of the nodes. "What?". Well, the lock server IP address will be managed by the heartbeat mechanism - see below.
NB. Make sure the cluster IP address has a DNS entry (eg fscluster).
2. Create the OpenGFS drive, lock partition and external journal as described in the NoPool_HOWTO_build_and_install_OpenGFS document, using the above ogfscf.cf file and the sample journal file from the document. Use /ogfs as a mountpoint.
3. Install the latest heartbeat code from linux-ha.org on both nodes and test the serial connections as described in the heartbeat documentation.
4. Configure ha.cf for serial and net heartbeat (I won't do it here - see the heartbeat documentation for info).
5. Copy the ha_memexpd script from the OpenGFS source directory (under scripts, I think) to /etc/ha.d/resource.d/memexpd
6. Configure Samba with /ogfs as a public, writeable share (eg "ogfs") on both servers. Make sure smbd and nmbd aren't running yet.
7. Configure haresources. Pretty much the only thing you need to have in this file is a single line which looks something like

fred 192.168.1.100 memexpd \
Filesystem::/dev/sda3::/ogfs::ogfs::hostdata=[node IP address] smb
(The node IP address will be 192.168.1.1 on fred, and 192.168.1.2 on barney. This actually goes against the advice in the heartbeat documentation, which says that haresources should be the same on both nodes, but OpenGFS needs the IP address when mounting, in order to manage locks. There are, I'm sure, more elegant ways of passing the IP address.)
What this says is that the preferred node is fred, the cluster IP address is 192.168.1.100 and that three other resources should be managed - the locking daemon (memexpd), the mount for the ogfs device (Filesystem::...) and Samba (smb). These are actually scripts (and parameters separated by "::", in the case of Filesystem). That's why we copied the ha_memexpd script to memexpd in resource.d, because that is how heartbeat stops and starts resources, and resource.d is one of the place that heartbeat looks for scripts.
8. Make sure that the ogfs device isn't mounted on either node, and that the memexpd daemon also isn't running on either node.
9. You can now start the heartbeat service on both nodes (and make sure it's checked to start at bootup, and that you save the service configuration file!)
10. From a Windows client, you should browse for fscluster in the network neighbourhood. With luck, you should see the ogfs share and even be able to map it to a network drive.
11. Now shutdown the fred node. Within 30 seconds, barney should spot that fred is dead and should take over the lock server, mount and samba share! You will see a slight glitch in your Windows client, but after a few seconds, the share comes back.
Still a few things to iron out, but that's about it so far, folks.
WARNING! I think there are some factual errors in this, so be careful - I need to check tomorrow, but the crucial point is still in making the lock server a heartbeat managed cluster resource.
Posted by daen at 12:08 AM
October 09, 2003
Nuevolution raises $15 million
NUEVOLUTION A/S RAISES $ 15 MILLION IN FIRST CLOSE OF SERIES B EQUITY FINANCING
Copenhagen, Denmark – October 9, 2003 – Nuevolution A/S a privately held drug discovery company today announced that the Company has raised $15 million in the first closing of a Series B equity financing.
This second round of financing was led by Scandinavian Life Science Venture, and brings to $ 24 million the total funds raised since the Company's founding in May 2001. The Company intends to raise additional funds through a second closing.
Not bad for a 30 month old company with 30 employees. Champagne and Belgian chocolates all round, then heads down in the labs and back to the phones to raise the next tranche ...
Read the full press release here (110Kb PDF).
Posted by daen at 11:23 PM
S809 - Done and dusted
Done. Finished. History. Done.
The assignment has been dispatched and the course is over. Frankly, I'm pleased to see the back of S809 - Imaging in Medicine. I haven't enjoyed this year as much as last year when I studied the partner course, S807 - Molecules in Medicine (about medicinal chemistry). I just don't seem to be able to get that interested in ultrasound scanners and X-ray machines. Ho hum.
I'm taking a break from the OU next year. I'll probably return to the studies in 2005, but for now I have enough on my plate with being the system administrator for Nuevolution.
Posted by daen at 11:17 PM
Culture Night 2003
Friday is Kulturnatten 2003.
"On October 10th 2003 the 11th Night of Culture (Kulturnatten) takes place in Copenhagen. More than 300 venues all over the city will be turned over to artists, musicians and creative forces for a spectacular night of art and entertainment. Museums, churches, musical venues, art galleries, theatres, libraries, schools, bookshops, and lots of other venues will open their doors from 6 to 12 pm offering all sorts of special events for the curious and adventurous public."

Posted by daen at 02:01 AM
Definitely not mainstream music
I was pleased to see my friend Martin Newell chronicled in Richie Unterberger's Unknown Legends of Rock'n'Roll (which is a bit unfair, because he's neither unknown nor a legend).
Posted by daen at 01:06 AM
October 08, 2003
Biotech & Genetic Engineering
This link to biotechnology at Colorado State Uni is interesting:
Introduction and Background
Overview of Biotechnology and Genetic Engineering
Review of Nucleic Acid and Protein Chemistry
DNA Technology: Manipulating and Characterizing Nucleic Acids
Gel Electrophoresis of DNA and RNA
Restriction Endonucleases and DNA Modifying Enzymes
Vectors and Hosts: Plasmids, Phage and Bacteria
Nucleic Acid Hybridization
Polymerase Chain Reaction
DNA Sequencing and DNA Synthesis
Purifying and Manipulating Nucleic Acids
Molecular Cloning
Overview of Cloning
Cloning cDNAs
Cloning and Characterizing Genes
Expression of Recombinant Proteins
Expressing Recombinant Proteins in Bacteria
Recombinant Protein Expression in Eucaryotic Cells
Specific Mutagenesis
Protein Engineering
Applications of DNA Technology
Diagnostics
Vaccines
Bioremediation
Genetic Engineering of Plants
Genetic Engineering of Animals
Molecular Approaches to Evolution, Archeology and Paleontology
RNA Technology
Posted by daen at 06:55 PM
October 06, 2003
Who are you out there?
One of the things that I enjoy is finding out who visits this blog, and how. The interesting thing is what brings them (you!) here.
Sometimes I (accidentally) hit a topical note, such as mentioning the we're-going-to-get-wiped-out-by-a-meteor-oh-no-we're-not story from a few weeks back, which had a lot of people googling like mad for background info. By a quirk of fate, this blog seemed to get hit quite a bit, which pushed September's statistics way through the roof - almost 300 hits!
But sometimes I have no idea either why or how this blog pops up on Google's radar. Take this Google search for example. "Oil painting of cyclists". I mean, wha' the ...? First of all, I wonder what the story is behind such a thing. Why not golfers or gymnasts? And secondly, I was momentarily gobsmacked as to how the heck I'd ended up in the list (if you've clicked the link to the search already, you'll have seen the answer).
Funny old thing, life, innit?
Posted by daen at 02:15 PM
October 05, 2003
OpenGFS, heartbeat and Samba
Update 9 October - it works now, although not quite as I pondered below ... See here for details
I managed to get a part of my new OpenGFS Linux file server cluster working on Thursday night. One of the servers now loads the memexp and ogfs modules, starts the memexpd lock server and mounts the ogfs drive at startup, and makes it available as a Samba share. Simple enough - I can now map a network drive to the 1.1Tb drive using Win XP.
It manages this through the heartbeat mechanism, with the two servers, fred and barney, configured so that fred is the preferred server. The bit that doesn't work yet is the failover, so that if you shutdown fred, barney should detect the heartbeat failure and take over file serving, and with only a small interruption should restart the lock server, mount the ogfs drive and make the Samba share available again. The only problem is that the ogfs mount takes a hostdata option. I currently have this set in the haresources file to be the ip address of each server, which goes against the stern advice in the haresources header to make sure that the files are the same on each cluster member.
Well, it doesn't work. If fred fails, barney can't mount the ogfs drive. I'm guessing there is some stomith/stonith stuff to be done here. do_manual, perhaps?
It only occurred to me as I was leaving the office that perhaps this hostdata parameter could be the cluster ip address, not the ip address of each individual cluster member. I'll try it tomorrow, anyway. I wonder what will happen to the lock info, though, seeing as I'm not using the -d option when I start memexp ... could be messy.
Posted by daen at 03:16 PM
Fear, Uncertainty, Doubt and 2,000 words before bedtime
I'm a procrastinating fool.
No news there.
I have this end-of-course assignment thingy to write, must be at the Open University in England by 10th October, had three months to write it (about 6,000 words), and what happens? Here I am banging random blog entries out with 2,000 words of the assignment left to write.
This happened last year. I pulled an all-nighter to finish that one, I posted it Express which cost a bloody fortune, because it only had two days to get there. This time I'm determined to post it tomorrow ... or Tuesday at the latest. That gives a comfortable four or five days to get to England from Denmark.
Anyway, I've wasted enough time & typing on this entry. It was just an explanation of why there have been/will be no (few?) new blog entries for the last couple/next couple of days. Oh, except for a small OpenGFS one, coming up after the break ...
Posted by daen at 03:06 PM
October 01, 2003
Whisky excise slashed 45% in Denmark? I'll drink to that!
Ireland OnLine reports that Denmark slashes excise duty on Scotch : by 35 DKK per bottle.
Here's a short article on "Savoring Scotch".
Here's a picture of a bottle of 10-y.o. Laphroaig.
Posted by daen at 04:26 PM