« June 2003 | Main | August 2003 »
July 30, 2003
Parties in space!
Students for the Exploration and Development of Space (SEDS)
Pretty scary to think of students in space (at least some of the ones I've known).
Still, some neat links and pictures.
That's here. That's home. That's us. On it, everyone you ever heard of, every human being who ever lived, lived out their lives. The aggregate of all our joys and sufferings, thousands of confident religions, ideologies and economic doctrines, every hunter and forager, every hero and coward, every creator and destroyer of civilizations, every king and peasant, every young couple in love, every hopeful child, every mother and father, every inventor and explorer, every teacher of morals, every corrupt politician, every superstar, every supreme leader, every saint and sinner in the history of our species, lived there on a mote of dust, suspended in a sunbeam.
The earth is a very small stage in a vast cosmic arena. Think of the rivers of blood spilled by all those generals and emperors so that in glory and in triumph they could become the momentary masters of a fraction of a dot. Think of the endless cruelties visited by the inhabitants of one corner of the dot on scarcely distinguishable inhabitants of some other corner of the dot. How frequent their misunderstandings, how eager they are to kill one another, how fervent their hatreds. Our posturings, our imagined self-importance, the delusion that we have some privileged position in the universe, are challenged by this point of pale light.
Our planet is a lonely speck in the great enveloping cosmic dark. In our obscurity -- in all this vastness -- there is no hint that help will come from elsewhere to save us from ourselves. It is up to us. It's been said that astronomy is a humbling, and I might add, a character-building experience. To my mind, there is perhaps no better demonstration of the folly of human conceits than this distant image of our tiny world. To me, it underscores our responsibility to deal more kindly and compassionately with one another and to preserve and cherish that pale blue dot, the only home we've ever known.
-- Carl Sagan (1934-1996)
Posted by daen at 11:04 PM
The Bells! The Bells!
A church gets some new bells, so they need to hire a bell-ringer. They put out an ad in the paper, and people start coming to the church to apply for the job and try out by doing their best ringing. One of the applicants that comes in is a guy with no arms or legs. The priest looks at him and wonders how this guy is going to ring the bells, but since the church is, after all, an equal opportunity employer, he lets the guy try out for the job.
The guy proceeds to hop quickly across the bell tower and smash his head on the bells. It makes an absolutely beautiful sound, one very different from the rest of the bell-ringers, and the priest hires the guy on the spot. That Sunday, the guy shows up to mass in a little bowtie, a little nervous, but very excited about his new job. He hops across the bell tower at full speed, puts his head down to ring the bell, and misses the bell, goes flying out of the bell tower, and lands below, dead. Everyone in the church runs out and looks down at the guy, wondering who he is. They ask the priest, and he says, "I don't his name, but his face rings a bell."
And yet, this is not the end of the joke. The dead bell ringer's brother wants to fill in for his brother, so he runs up the stairs to the belfry to ring the bells, panting, and just as he's about to ring the bells, he falls over dead of a heart attack. Everyone hears the thump and runs upstairs to see what happened. When asked again if he knew the person, the priest replies, "I don't know his name, but he's a dead ringer for his brother."
And now, finally this terrible, terrible joke is over
---
Thanks to Uncle Roy in Picayune, MS for this one ...
Up in belfry
Sexton stands
Pulling pud with clawlike hands
Down in pulpit
Parson yells
"Stop pulling pud, pull f***ing bells!"
---
And finally, not very bells related, but I enjoyed it anyway:
Nelson Mandela is sitting at home watching the telly when he hears a ring on the doorbell. When he opens it, he is confronted by a big deliveryman, clutching a clip board and saying, "Special delivery. Couldya sign 'ere?" Behind him is an enormous lorry full of car exhausts. So Nelson says to him, "Sorry, I think you've got the wrong address", and shuts the door in his face. The next day he hears a ring on the doorbell again. When he opens it the delivery man is back with a huge lorry, full of brake pads. He thrusts his clipboard under Nelson's nose, saying, "Special delivery. Couldya sign 'ere?" Mr Mandela is getting a bit hacked off by now, so he says: "Now, look, I told you yesterday you've got the wrong address! I didn't want the exhausts, and I certainly don't want brakepads!" Then he slams the door in the deliveryman's face. The following day, Nelson is resting, and late in the afternoon, he hears a ring on the doorbell again. He opens the door, and there is the same delivery man with the same clipboard, saying "Special delivery. Couldya sign 'ere?" Behind him are TWO huge lorries full of replacement car doors, engine parts, the lot. This time Nelson loses his temper completely, he grabs the delivery man by his shirt front and yells at him; "Look, I didn't want the exhausts, I didn't want the brake pads, and I don't want car doors and engine parts! Don't you understand? You've got the wrong address!" The delivery man looks at him very puzzled, consults his clipboard, and says: "Are ya tellin' me you're not Nissan Maindealer?"
Goodnight.
Posted by daen at 12:04 AM
July 29, 2003
Samba 3.0.0 beta 3 available : AD support available!
SAMBA - opening windows to a wider world
16th Jul, 2003 Samba-3.0.0 beta3 available for download
The third (and possibly final) beta release of Samba 3.0.0 is available for download. While significantly closer to the final release, it should still be considered a non-production release provided for testing purposes only. The source code and GnuPG signatures can be found on Samba mirrors. RedHat RPMS for 7.3, 8.0 and 9.0 are also available in the Binary_Packages download area. Packages for other platforms will follow shortly. The full release notes are available on-line as well.
If all goes well, we will now move onto the Release Candidate (RC) stage.
Major new features:
1) Active Directory support. Samba 3.0 is now able to to join a ADS realm as a member server and authenticate users using LDAP/Kerberos.
2) Unicode support. Samba will now negotiate UNICODE on the wire and internally there is now a much better infrastructure for multi-byte and UNICODE character sets.
3) New authentication system. The internal authentication system has been almost completely rewritten. Most of the changes are internal, but the new auth system is also very configurable.
4) New filename mangling system. The filename mangling system has been completely rewritten. An internal database now stores mangling maps persistently. This needs lots of testing.
5) A new "net" command has been added. It is somewhat similar to the "net" command in windows. Eventually we plan to replace umerous other utilities (such as smbpasswd) with subcommands in "net".
6) Samba now negotiates NT-style status32 codes on the wire. This improves error handling a lot.
7) Better Windows 2000/XP/2003 printing support including publishing printer attributes in active directory.
8) New loadable RPC modules.
9) New dual-daemon winbindd support for better performance.
10) Support for migrating from a Windows NT 4.0 domain to a Samba domain and maintaining user, group and domain SIDs.
11) Support for establishing trust relationships with Windows NT 4.0 domain controllers.

12) Initial support for a distributed Winbind architecture using an LDAP directory for storing SID to uid/gid mappings.

13) Major updates to the Samba documentation tree.
Posted by daen at 01:18 PM
Denmark's longest museum, railway signals
Updated 20/9-2004 (links to dead pictures fixed)
I read this story on the BBC news website about trams coming back to Paris, and thought "wouldn't it be nice if they came back to Copenhagen, too?"
On a related (but less aesthetically appealing) note, I feel I have to include this link to Danish railway signals and this link to a collection of Danish railway track maps. Why? Well, it's 1am, I'm a week behind in my OU studies, and isn't this what displacement activity is supposed to look like?!?
Posted by daen at 12:45 AM
Martin Newell : "The Sound of a Bike"
The pomes link seems to be broken on the "Sound of a Bike" page - follow this link to the "pomes" ... D.
The Sound Of A Bike
It's the sound of a bike
Which is part of the deal
And the well-oiled whirr
Of the sprocket and wheel
For the sound of a bike
Is distinctly genteel
And is holier now
Than the automobile
And the ching of the bell
On a bend in a lane
And the back-alley squeak
Of the brakes after rain
And the willow-herb wind
For the ghost of a train
Since the cinderpath track
Became cyclist's domain.
But the sound of a bike
Disappears without trace
In the madness of town
And the scrimmage for space
With the cut-up and curse
And the rage on the face
Of contestants engaged
In the circular race
For the sound of a bike
Has a subtler beat
In the click of its gears
And the crick of its seat
Than the harsh metal dirge
Of a gridlocked elite
In their four-wheeled cells
On a five o'clock street
Posted by daen at 12:12 AM
July 28, 2003
Steely Dan Website
Lyrics | Official Steely Dan | By Album
Lyrics | Official Steely Dan | Alphabetically by Song
Steely Dan are, of course, Walter Becker and Donald Fagen. Among other things on the website, WB writ(h)es amusingly about being a touring musician:
In any case, our advice for the travelling musician who is carving his way across Europe is to ignore the details of the local currency and its baffling valuations and devise for himself a plan based on rough estimates, sizes, shapes and colors, and the approving glances of local shopkeepers and waitpersons (or the indignant glare if you've screwed up). Here's a system that seems to work just fine.
Breakfast for two in hotel restaurant: Two dark color notes or five thick brass coins, with two or three medium silvery coins as a tip.
Herald Tribune, when available: One light or bright colored note and a tip of the hat
Headache remedy containing codeine: Flash wad of notes, hand over one of the big ones with gold writing, then head for the street without waiting for change
Enjoy. Oh, and here's a little titbit from Fagen's Who2.com profile:
Fagen and Becker attended Bard College along with actor Chevy Chase; the three once played together in a band known as Leather Canary.
Posted by daen at 04:02 PM
Blake's 7 set to return!
BBC NEWS | Entertainment | Blake's 7 set for hi-tech return
I recently wrote about the old hit BBC TV series Blake's 7. Well, great news, British sci-fi fans ... Blake's 7 is, at long last, set to return to British TV screens ... I wonder if it will ever make it to Danish telly? One can only hope ...
One of the stars of cult sci-fi series Blake's 7 has signed a deal to bring the show back to screens more than 20 years after it ended.
Paul Darrow, who played the ruthless anti-hero Avon, is in a consortium that has acquired the rights to the show from the widow of its creator, Terry Nation.
Made as a UK answer to Star Wars or Star Trek, Blake's 7 became a hit between 1978-81 - despite its shaky sets and basic effects.
A new TV mini-series, starring Darrow, will have a budget of $5-6m (£3-3.7m), the show's website said.
"Hi-tech"? Does this mean the walls won't wobble when someone slams a door on the 'Liberator'?!? Or that Orac won't be made of Perspex and Christmas tree lights any more?!? I hope not.
Posted by daen at 03:41 PM
Python
I've wittered on here previously about Python without really explaining what it is ...
Python is an interpreted, interactive, object-oriented programming language. It incorporates modules, exceptions, dynamic typing, very high level dynamic data types, and classes. Python combines remarkable power with very clear syntax. It has interfaces to many system calls and libraries, as well as to various window systems, and is extensible in C or C++. It is also usable as an extension language for applications that need a programmable interface. Finally, Python is portable: it runs on many brands of UNIX, on the Mac, and on PCs under MS-DOS, Windows, Windows NT, and OS/2.
Python is used by life science companies, NASA, Industrial Light and Magic, and apparently underpins Google.
And it's fun!
Posted by daen at 12:44 AM
An apology from the management ...
Apologies for the paucity of postings these last couple of weeks, Loyal Blogfans, but I have been officially, and actually, on holiday, and couldn't be arsed to post anything. I have picked and dined on chanterelles, painted part of a converted summerhouse black, painted some of my clothes black, been to the Tuborg Grøn Koncert, viewed modern art and basked in the Danish summer sun on a beach on the North Coast of Denmark.
While not entirely relaxed - I'm running too late with an assignment for my OU course to be relaxed - my batteries are somewhat recharged and I'm ready to face work again ...
I don't think I'll do S810 next year ...
Posted by daen at 12:12 AM
July 27, 2003
Bob Kerr - update!
You may remember I wrote about Bob Kerr and his Whoopee Band a while back, lamenting that not only had I missed them coming to Denmark in June (and the last three years), they weren't playing the Jazz Festival either.
I e-mailed Bob at his agent and, to my surprise, got this reply:
Hi Daen
Thanks for your email. Yes we have been in Denmark quite a bit over
the last few years. We hope to be back in September. Nothing is fixed in DK
for 2004 yet.
Look us up on our website www.whoopeeband.de. There you will find our Swedish Agent who fixes things for us in Scandinavia. If you need any more info just let me know.
Bob Kerr
That's nice, innit?
Posted by daen at 11:58 PM
Useful Win32 programmers' utilities
Useful system utility ...
The program consists of four main parts:
System Monitor. Using this component you can monitor dozens of counters, like memory, resources, etc., including ones you define. With this component you can recover and defragment computer's free RAM - either manually or as a scheduled task.
Processes/Modules/Windows. This component gives you a list of modules (DLLs) used by selected processes and a list of windows created by them.
It provides clear views of their properties, environment, allows terminating processes and releasing DLLs.
You can easy find any window and capture it with the finder tool. Capture of most 'true' menus is also available.
You can inject your function into a selected process in several ways.
Messages. The component lets to spy messages processed by a selected window and send them to it.

Files. The component contains a powerful Hex-editor, a resources viewer, it allows retrieval of information about file properties, changes in file system, import/export tables of executable files, dependencies, etc.
You can compare ini-files, registry's snapshots, compare binary files, make search/replace operations, deleting inside them. The Hex-editor has a remarkable feature: it allows "structural" viewing of binary files.
---
Remember Brief? TextPad has a lot of Brief-like functionality (though without the C-like macro language, sadly).
TextPad® is designed to provide the power and functionality to satisfy the most demanding text editing requirements. It is Windows hosted, and comes in 16 and 32-bit editions. Huge files can be edited by either - just choose the edition that works best with your PC. The 32-bit edition can edit files up to the limits of virtual memory, and it will work with Windows™ 9x, ME, NT 4, 2000 and XP.
TextPad has been implemented according to the Windows XP user interface guidelines, so great attention has been paid to making it easy for both beginners and experienced users. In-context help is available for all commands, and in-context menus pop-up with the right mouse button. The Windows multiple document interface allows multiple files to be edited simultaneously, with up to 2 views on each file. Text can be dragged and dropped between files.
In addition to the usual cut and paste capabilities, you can correct the most common typing errors with commands to change case, and transpose words, characters and lines. Other commands let you indent blocks of text, split or join lines, and insert whole files. Any change can be undone or redone, right back to the first one made. Visible bookmarks can be put on lines, and edit commands can be applied to lines with bookmarks.
Frequently used combinations of commands can be saved as keystroke macros, and the spelling checker has dictionaries for 10 languages.
It also has a customizable tools menu, and integral file compare and search commands, with hypertext jumps from the matched text to the corresponding line in the source file (ideal for integrating compilers).
Posted by daen at 10:46 PM
Culture, innit?
Iain M. Banks: A Few Notes on the Culture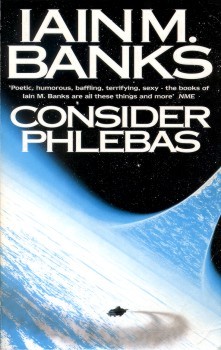 The humans of the Culture, having solved all the obvious problems of their shared pasts to be free from hunger, want, disease and the fear of natural disaster and attack, would find it a slightly empty existence only and merely enjoying themselves, and so need the good-works of the Contact section to let them feel vicariously useful. For the Culture's AIs, that need to feel useful is largely replaced by the desire to experience, but as a drive it is no less strong. The universe - or at least in this era, the galaxy - is waiting there, largely unexplored (by the Culture, anyway), its physical principles and laws quite comprehensively understood but the results of fifteen billion years of the chaotically formative application and interaction of those laws still far from fully mapped and evaluated.
By Gödel out of Chaos, the galaxy is, in other words, an immensely, intrinsically, and inexhaustibly interesting place; an intellectual playground for machines that know everything except fear and what lies hidden within the next uncharted stellar system.
This is where I think one has to ask why any AI civilisation - and probably any sophisticated culture at all - would want to spread itself everywhere in the galaxy (or the universe, for that matter). It would be perfectly possible to build a Von Neumann machine that would build copies of itself and eventually, unless stopped, turn the universe into nothing but those self-copies, but the question does arise; why? What is the point? To put it in what we might still regard as frivolous terms but which the Culture would have the wisdom to take perfectly seriously, where is the fun in that?
Indeed.
Read about Iain M. Banks' Culture novels here.
Posted by daen at 09:58 PM
Louisiana Museum for Moderne Kunst
The Louisiana Museum for Modern Art - the largest collection of modern art in the Nordic region.
"Louisiana Museum of Modern Art is situated in Denmark on the North Zealand coast in a spacious, old park with a fine view across the sound of Sweden. It houses an exquisite collection of modern art by international artists such as Arp, Francis Bacon, Calder, Dubuffet, Max Ernst, Sam Francis, Giacometti, Kiefer, Henry Moore, Picasso, Rauschenberg and Warhol."
Posted by daen at 09:09 PM
July 14, 2003
Copenhagen jazz festival over, Grøn Koncert coming up
Well, we caught some of it this year ... B- : could do better.
But, more good music coming on Sunday - Suede, Lars H.U.G. and TV.2 are playing the Tuborg Grøn Koncert at Valbyparken ... stay tuned
Posted by daen at 10:45 AM
Americans and "American English"
Apropos of nothing, I had the following thought about Americans the other day. They speak a strange form of English which the world calls "American English", right? And in England we often refer to them as our American cousins. I think that both of these things are down to the fact that a long, long time ago we shared a common Grammar ...
OK, you do better on a Monday morning.
Posted by daen at 10:34 AM
July 07, 2003
The Joy of the Double-Dactyl ...
Brilliant examples of that odd and syncopated verse form, the double dactyl.
Oh what a narcissist!
Beauregard Vanity's
egocentricity's
dauntingly grim.
Could he breed simply by
parthenogenesis,
soon all the world would be
swarming with him!
Do you get the picture? No?
Here's an "explanation".
Double-Dactyl
Long-short-short, long-short-short
Dactyls in dimeter,
Verse form with choriambs
(Masculine rhyme):
One sentence (two stanzas)
Hexasyllabically
Challenges poets who
Don't have the time.
Double dactyls were invented by Antony Hecht and Paul Pascal.
A dactyl, as you may know, is a poetic foot of the form >-- (ON-off-off). For example, interstate, realize, microphone, cereal, limerick, etc. etc. A double dactyl, naturally enough, is two dactyls in a row.
A double dactyl is also a poem... Quite like a limerick, it has a rigid (if peculiar) structure. Two stanzas, each comprising three lines of dactylic dimeter followed by a line with a dactyl and a single accent. The two stanzas have to rhyme on their last line. The first line of the first stanza is repetitive nonsense. The second line of the first stanza is somebody's name -- strictly speaking, a proper noun. Note that this name must itself be double-dactylic. E.g. Gloria Vanderbilt, Jesus of Nazareth, Gilbert and Sullivan, Archangel Gabriel. In the second stanza, one entire line must be a double-dactylic word. E.g. biopsychology, geopolitical, gastrointestinal, abecedarian, etc. etc.
Finally, here's a bad example (in that the second line is not double dactylic and that the rhyme is weak and etc etc ...) by an anonymous poet ... maybe a new form - the terrordactyl?
Faraway faraway
Open University
Gives me the chance
to get my degree
Science and maths are
unhypothetically
fun things to study - or
don't you agree?
Argh.
Posted by daen at 10:41 PM
July 04, 2003
Which one are you?
The Canonical List of Flame Warriors
I swear I've encountered all of these types, and been half of them myself ...
The illustrations (by Mike Reed) are hilarious, too ...
Compost has few weapons at his disposal and must resort to expletives and gross vulgarities to amplify his rhetorical thrusts. His tactical approach can occasionally rout Innocence Abused, but it is generally ineffective against other Warriors. Combatants know when he has spent the fury of his attack when he suggests that his opponent's mother is a professional sexual services provider (although he will put it in different terms). Nanny has little stomach for Compost's ordure and will quickly eject him from the forum.
Posted by daen at 02:28 PM
The Craziest Band in the World
I wondered if Bob Kerr and his Whoopee Band were playing the Jazz Festival this year. Sadly not, but I did find out that once again they had snuck in and out of Denmark over three days in June without my noticing. Drat! Next year, boys ...
Bob Kerr and his Whoopee Band combine their musical skills and great sense of humor to create a SHOW of unashamed nostalgia ...
From start to finish an evening with the Kings of Musical Comedy will have you laughing in uncontrollable hysterics. 5 very eccentric English Gentlemen playing between them some 20 conventional instruments and some not so conventional ...
Their show is a complete mixture of styles from the late great Spike Jones and his City Slickers & the Firehouse Five right through the whole musical spectrum from the 20's to the 90's, with parodies of Roy Orbison, The Blues Brothers to name but a few and with a little bit of "Classical Music" thrown in for good measure it all adds up to an evening of pure honest fun and entertainment. The whole show was described by a leading European newspaper as a modern day cross between Spike Jones, The Marx Brothers and Monty Python.
Posted by daen at 11:37 AM
Online chemistry course
Organic Chemistry (Francis A. Carey) : Contents
Needs Chime from MDL

Posted by daen at 01:21 AM
July 01, 2003
Solvents
Posted by daen at 03:04 PM