« April 2003 | Main | June 2003 »
May 28, 2003
Pweeeh! Beep! Ka-boosh!
Emulators Online - Atari 8-bit Emulation

Pining for Atari 8-bit Space Invaders? Wanting to beat your Star Raiders high score? Missing M.U.L.E? Haven't got a clue what I'm talking about? Why not visit Emulators Inc. Atari 8-bit emulation website and download an 8-bit Atari of your very own!?!?!?!?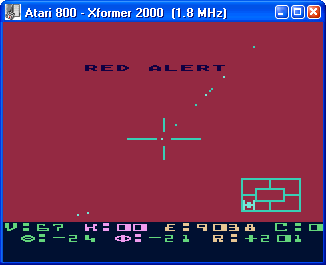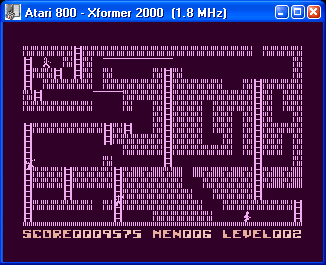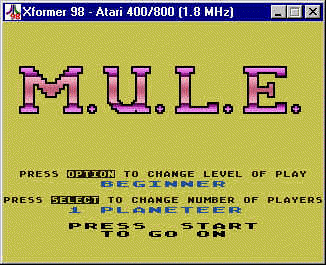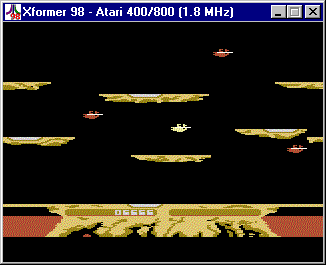 Posted by daen at 02:38 PM
May 26, 2003
Odd animations
Weebl has turned into a cult (yes, cult).

Other Animals, The Hairy Ballerina
Phil Hall's "The HairyBallerina" recently won the best animation in the Digital Flash Animation category at the 15th Budweiser Foyle Film Festival. So there.
Posted by daen at 04:18 PM
May 20, 2003
Ærøfærgerne
Ferries to Ærø from other parts of Denmark.
Posted by daen at 05:13 PM
CVSNT & WinCVS
CVSNT 2.0.4 installation file (.exe)
Posted by daen at 03:46 PM
May 12, 2003
Bioinformed
A bioinformatics weblog - nodalpoint.org
Nodalpoint is great for tracking bioinformatics issues. To get the best from it you'll need to create an account (free). The news feeds page makes for excellent reading.
Posted by daen at 12:54 AM
May 11, 2003
Ale and arty
Danske Ølentusiaster (Danish Beer Enthusiasts)
Blast. Missed the beer festival again.
Posted by daen at 11:51 PM
Comb jellies and jellyfish
Introduction to the Ctenophora, Introduction to the Cnidaria
Ctenophores are the "sea goosberries" or "comb jellies", and do not possess stinging cells. Cnidaria are the stinging ones (from the Greek "cnidos" meaning stinging nettle) including the box jelly.
Why am I telling you this? I have no idea. But I think Roald Dahl had the cnidaria in mind when he wrote about the Vermicious Knids in "Charlie and the Great Glass Elevator".
Posted by daen at 11:28 PM
May 08, 2003
"Where's Raed?" is back!
He's been away for a while, but, postbellum, Salam Pax is back. Is he for real? Who knows, but he sure sounds convincing ...
A whole market has emerged right there in front of the two hotels, Meridian and Sheraton. Thuraya phone owners standing in front of their cars offering you phone calls abroad for $5 a minute (it actually costs less than a dollar). Photocopy shops to make copies of whatever the coalition is throwing at the people today. People with foldable chairs and cardboard boxes in front of them offering to exchange your dollars, no idea why the cardboard box. Maybe to make it look like an office. Cigarette vendors, various sandwiches are at offer but they don't look too safe to eat. The atmosphere is like a festival. We only needed live music and a beer stand.
Whatever….. G. had a falafel sandwich and we drank "ZamZam Cola". Baghdad is flooded with "ZamZam Cola" – named after the "holy" well in Mecca. Iranian product and tastes too sweet. But since it is called ZamZam it must have some divine qualities. I have been drinking ZamZam Cola for a while now; I am expecting to grow angel wings any day.
Posted by daen at 11:21 PM
Poor Mohammed's Daughter
Martin Newell-Poor Mohammed's Daughter
Mohammed's fillings, buccal and occlusal
In gaping mouth when he throws back his head
Confirm the diligence of Baghdad dentists
If not the fact his little daughter's dead
This picture of the grocer is unusual
His howling anguish, shock and disbelief
The intimacy wedded to intrusion-
A war allows us windows on such grief
In eastern England now, the spring advances
A sharp east wind still nibbles at the days
In Colchester the soldiers' pubs stay empty
As field-by-field the farmland turns to baize
The rooks are building higher which enhances
The chance that summer comes up with the goods
The sergeants' wives must exercise the dogs now
They hear the transport planes above the woods
A gung-ho newsman on the television
In self-important, bullying semi-dark
With barely-bridled relish, talks of tactics
Astride a giant model of Iraq
A line of virtual tanks take up position
And flash up gold explosions on attack
If science can put missiles through a cat-flap
It won't bring poor Mohammed's daughter back.
In Babylon they've cluster bombs not towers
In Nineveh, not Quinquereme but Bradley
Where hope dissolves in nausea and migraine
The ancient world is doing rather badly
The children of the modern world spend hours
With drips in arms and bandages on heads
And 'surgical' are strikes, which does seem clearer
Observing tiny patients on their beds.
"You betcha melted boots we're coming, mister
A war is best held fresh, or it'll spoil
You gotta go in hard to burst a blister
Especially if that blister's full of oil."
Poor Mohammed held his daughter, kissed her
Brushed the blood and dust from matted hair
Noting that her body seemed much lighter
Never seeing the camera clicking there.
Posted by daen at 01:46 PM
May 07, 2003
Meetup
Meetup: Organizing local interest groups.
Posted by daen at 08:39 PM
QuickMath - powered by webMathematica
QuickMath Automatic Math Solutions
100% free Mathematica-powered maths website. Trying to explain systems of linear inequalities to your cousin's husband and his daughter? Why, then, you need QuickMath!
QuickMath is an automated service for answering common math problems over the internet.
Think of it as an online calculator that solves equations and does all sorts of algebra and calculus problems - instantly and automatically!
When you submit a question to QuickMath, it is processed by [web]Mathematica, the largest and most powerful computer algebra package available today. The answer is then sent back to you and displayed right there on your browser, usually within a couple of seconds.
Best of all, QuickMath is 100% free!
Posted by daen at 08:14 PM
Splat
Shoot to Thrill - Paintball on Amager
If you're ever in Copenhagen with a group of pals and you fancy firing small but spectacularly sticky pellets of paint at each other at a bruise-making, bone-jarring 190mph (300kph) in the scenic Danish countryside while wearing camouflage overalls with all the protective power of a piece of wet toilet paper, a) put your analyst on danger money (as Zaphod would say) and then b) give "Shoot to Thrill" a call.
Posted by daen at 04:29 PM
May 04, 2003
Copenhagen weather
Copenhagen Weather Webcam & Gallery
Since 1996, Thomas Ring has been putting pictures of Copenhagen up on the web. See them here. The picture and information above should update on a daily basis.
Updated 20/9-2004 (fixed dead link and picture, removed dead DMI picture links)

Posted by daen at 11:08 PM
May 03, 2003
Cicero : De Finibus
Vulgo enim dicitur, "Iucundi acti labores". (Trans: It is commonly said that accomplished labours are delightful).
Posted by daen at 02:47 PM
General Anatomy
Posted by daen at 12:53 PM
Reference books on-line
Reference: Dictionary, Encyclopedia, Thesauri, Usage, Quotations, and more. Bartleby.com
Encyclopedias, gazetteers, dictionaries, thesauri, quotations, guides to English usage, religion and mythology, literary history, anatomy, cooking, etiquette and parliamentary procedure are all here. Bit worried about cooking and anatomy being next to each other ...
Oddly, here's one they missed from the inestimable Viz website ...
Posted by daen at 12:16 PM
May 01, 2003
Complaint
Sadly, my 100th entry is a complaint.
"Daen de Leon has had his say, and this is mine. Let's get down to brass tacks: I cannot believe how many actual, physical, breathing, thinking people have fallen for Daen's subterfuge. I'm totally stunned. If we are powerless to maximize our individual potential for effectiveness and success in combatting him, it is because we have allowed Daen to test another formula for silencing serious opposition. Simply put, he insists that society is supposed to be lenient towards unbalanced, unambitious swindlers. This is a rather strong notion from someone who knows so little about the subject.
In the past, people like Daen would have been tarred and feathered for trying to increase people's stress and aggression. He obviously didn't have to pass an intelligence test to get to where he is today, because his knowledge of how things work is completely off the mark. First of all, those of us who are too lazy or disinterested to search for solutions that are more creative and constructive than the typically gnosticism-prone ones championed by heartless prevaricators have no right to complain when he and his buddies cure the evil of discrimination with more discrimination. So, where do headstrong, unruly crybabies like him come from, and what are we going to do with them? I guess it just boils down to the question: Is it possible for those who defend silly barbarism to make their defense look more perverted than it currently is? It is bootless to speculate on the matter, but it should be noted that one of Daen's peons once said, "Animalism and Marxism are identical concepts." Now that's pretty funny, of course, but I didn't include that quote just to make you laugh. I included it to convince you that there is a proper place in life for hatred. Hatred of that which is wrong is a powerful and valuable tool. But when Daen perverts hatred in order to subordinate principles of fairness to less admirable criteria, it becomes clear that if one could get a Ph.D. in Dadaism, he would be the first in line to have one. Plainly stated, Daen speaks like a true defender of the status quo -- a status quo, we should not forget, that enables him to relabel millions of people as "vulgar". The recent outrage at Daen de Leon's cock-and-bull stories may point to a brighter future. For now, however, I must leave you knowing that violence, mayhem, and insanity are the inevitable consequences of his machinations."
Posted by daen at 12:21 AM
Nate's News
Nate's News - Thoughts on technology, travel, music and life
My usual trawl through GeoURL throws Nate Aune into my blinding headlights. Look out, Nate! Ooops.
Posted by daen at 12:11 AM